Wherever your
research takes you,
we'll be there
Whether you are working with drug discovery, drug development, spatial biology, or clinical research, our versatile tissue analysis software lets you build the exact analysis algorithms you need to unlock the secrets of your research.
More capabilities with deep learning
Integrating deep learning to image analysis allows robust and reliable detection of structures, which due to a high natural heterogeneity have been challenging to detect with machine learning only. Deep learning based algorithms identify rules from the underlying patterns in the image, using examples instead of code.
Deep learning in image analysis
Our deep learning capabilities can be easily combined with classical image analysis to get the best out of both worlds. Users can train their own algorithms from scratch, tailored to their need or use – and adapt – our pre-build and ready-to-use AI APPs.
Tumor-stroma separation
Various image analysis algorithms in oncology depend on a reliable tumor-stroma separation prior to the detailed analysis to ensure precise data generation. Our deep learning based tumor detection for IHC accurately identifies regions of epithelial tumor cells and can be combined with a variety of ready-to-use or customized subsequent analysis algorithms for your research.
Lymph node metastasis
This module has been trained to detect metastases in H&E stained lymph nodes associated with breast and colorectal adenocarcinoma. The Metastasis Detection APP for research results in improved sensitivity and specificity of metastasis detection in lymph nodes from colorectal and breast adenocarcinoma.
Nuclei segmentation
Consistent and robust nuclei detection is the base of a large majority of tissue image analysis algorithms. With advanced nucleus pleomorphism it is increasingly difficult – albeit important – to accurately segment the nuclei. Our deep learning based Nuclei Detection APP reliably segments challenging cases in a large variety of stainings.
Glomeruli segmentation
Accurately identify glomeruli in kidney sections stained with a wide range of antibodies for a large variety of kidney research. This ready-to-use analysis can be combined with any subsequent stain specific algorithm for individual measurements.
(Research use only, not for diagnostic purposes)
Explore our example APPs for research
Get answers quickly with a wide array of APPs, amend existing APPs or create entirely new ones to fit your unique research questions.
The right AI for the right job
Not all tissue is built alike. Knowing when to use the right technology to get accurate, reproducible results is what you should expect from image analysis software. Each APP created in the Visiopharm software is created and tested using real-world data to ensure that the science behind the results is sound and APP performance is optimal.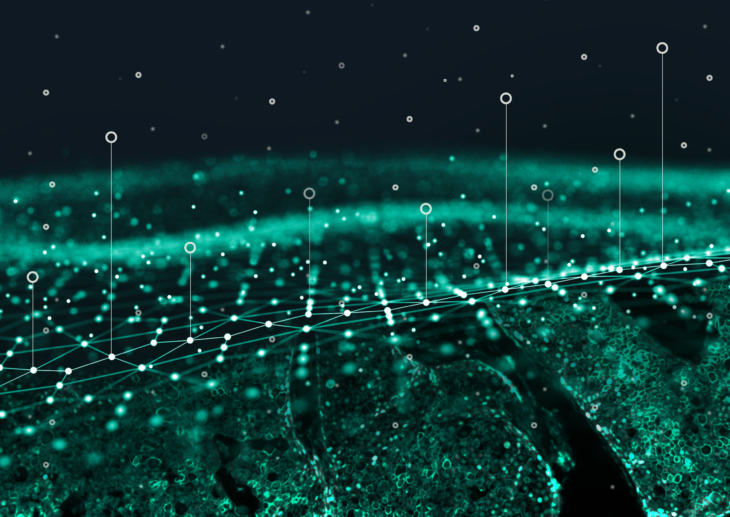 Cutting-edge tissue mining
Find and analyze tissue and cellular structures with a wide array of ready-to-use precision algorithms. Create bespoke precision algorithms using AI to find specific tissue and cellular structures for your samples. Automatically phenotype cells in highly multiplex tissue samples or across multiple serial sections.
Powerful data exploration tools
With Visiopharm software you get not only an ever-expanding suite of sophisticated analysis algorithms, you also get essential interactive data exploration tools to make sense of the results.
Any selected data point in your plots will link back to the
respective cell in the image to allow quick verification of
the results. All plots can be adjusted to display each tissue
compartment, phenotype, biomarker, or cell,
as needed to properly interrogate results.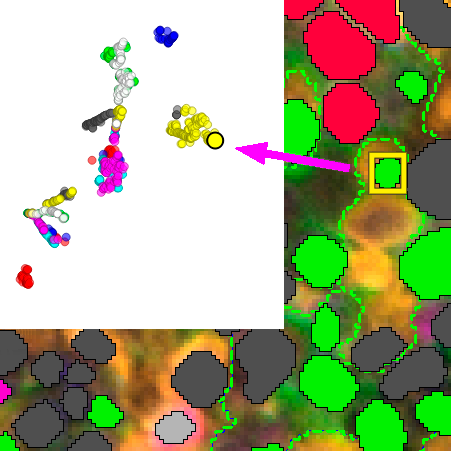 Expect more from your image analysis
Nuclei detection
Multiplex phenotyping
Tumor/stroma separation
Hot spot detection
PD-L1 assessment
Invasive tumor detection
Virtual multiplexing
NASH analysis
Tissue microarray analysis
Proliferation index
Metastasis detection
Breast cancer panel analysis
Glomeruli detection
Tumor microenvironment assessment
Immune status
Ki-67 percentage
IMC™ (Standard BioTools) analysis
Tissue detection
Heterogeneity analysis
RNAscope classification
H&E, IHC, Fluorescence analysis
Reference standard assessment
Analysis of IF images from SBI, Lunaphore or Akoya
HER2 status
FISH analysis
Primary tissue, cell lines, animal models
(Research use only, not for diagnostic purposes)
"Visiopharm is able to handle the very complex processes"
"Basically Visiopharm allows us to explore areas of research that typically would be very manual, a very subjective practice. What this tool allows us to do is essentially identify things that would be very difficult and allows us to get data that otherwise we wouldn't be able to obtain.
Visiopharm is able to handle the very complex processes, very complex images, and then we are able to utilize it's capabilities to get the data you need".
Robert Stapp, Thomas Jefferson University
"This software is different than all the others"
I chose Visiopharm because this software is different than all the others, it's very versatile. It's different than the black box software where it comes with a pre-programmed set of modules.
Nathan Su, Acepix Biosciences, USA
"Visiopharm's possibilities are virtually endless"
"I think that the huge benefit of Visiopharm is that you can develop your own customized algorithms. A lot more efficient than you can do with other software products. The possibilities are virtually endless."
Stefan Hamann, Biogen
Explore all features
Get detailed information on our powerful software and its features.
Research subscriptions
All of our features in two simple subscription editions.
Resources
Browse our guides, posters and webinars.