Only a small subset of patients with clear cell Renal Cell Carcinoma (ccRCC) respond to immunotherapy with checkpoint inhibitors. Research has shown that additional mechanisms of inhibition prevent the majority of patients from successful treatment. Recent studies into the inhibitory role of macrophages portend that these cells are associated with lower survival rate in several different cancer types. In this webinar, Immunologist Prof Dr Elfriede Nößner will present her research on specific macrophages in RCC ("ercDCs") which are associated with poor outcome and their potential as new targets in immune therapy.
Presented as a LabRoots webinar on January 19, 2021.
What is known about the role of macrophages in immuno-oncology in general and in RCC specifically
What are "ercDCs" and how do they interact with T-Cells in RCC?
Which possibilities exist to manipulate the ercDCs?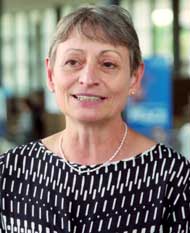 Dr Elfriede Nößner, Head of Immunoanalytics, Helmholtz Zentrum München, German Research Center for Environmental Health
Dr. Elfriede Noessner is professor at the Ludwig-Maximilians-University of Munich (LMU) in Munich, Germany, and employed by the Helmholtz Zentrum Munich, where she is the Head of Immunoanalytics Research Group. She is board certified in immunology by the German Society of Immunology. She spent 5 years at Stanford University. Her research topics include the biology of HLA proteins and the antigen presentation; the activation, maintenance and control of T cell responses; and the modulation of T and NK cells, as well as dendritic cells and macrophages in tissue milieus, including cancer.