Trust your
staining quality
We enable you to monitor and document your staining consistency to give you one less thing to worry about when it comes to slide quality.
Pathology needs standardization
Staining quality and sufficiency have a significant impact on the interpretive accuracy of the diagnostic tests based on IHC [1]. The human costs of inaccurate diagnostic interpretation can be high, and so are the financial costs.
AI and image analysis can play an important role and can be used for characterizing and quantifying staining quality. Such technology can be used both as decision support for organizations, assisting them in achieving both standardization and scalability and ultimately ensuring that the correct decisions are taken.
The quality challenge
Tissue biomarkers offer a diagnostic window into the tumor micro-environment, allowing scientists to discover new predictive biomarkers, for patient stratification and treatment selection.
However, the journey from biopsy to diagnosis has several steps, each with the potential to contribute to errors.
Biopsy and fixation
Due to errors in fixation, up to 20% of biopsies are unfit for diagnosis. This leads to a longer turn-around processing time, and often this requires a new sample to be collected [2].
Stain quality
20-30% of labs have insufficient stain quality for diagnosis. This leads to a delayed and incorrect diagnosis.
Read more about it
.
Image quality
Errors in digitization lead to poor image quality that can result in images with dark nuclei, images that are out of focus, or images that miss critical parts of the tissue. This can lead to longer turnaround times, unacceptable and borderline acceptable stain quality scores, and a delay in diagnosis [3].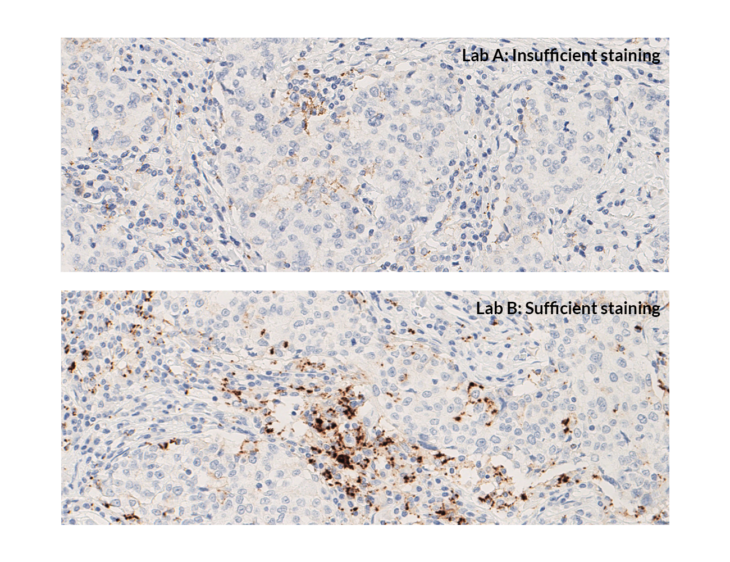 Unmet needs in staining consistency
In quality runs conducted by NordiQC from 2003-2015, about 30% of the stains in the general module and 20% in the Breast Cancer Module showed insufficient staining as assessed by the external quality assessment (EQA). While EQA's give laboratories valuable feedback on the performance of laboratories regularly, there are typically at least 3 to 6 months between assessments due to bandwidth limitations at EQAs.
The variability between EQA runs represents a real problem in terms of standardization and a concomitant lack of robustness in tissue diagnostic testing. This is a problem both in routine diagnostics and in clinical trials.
Fig. Two sections from the same tissue sample, stained with PD-L1 at two different labs. Lab A has insufficient staining, while Lab B has sufficient staining.
Introducing Qualitopix™
Qualitopix™ is the only solution that enables you to continuously monitor and document your staining consistency through objective AI-driven standardisation.
References
[1] Vyberg M, Nielsen S. Proficiency testing in immunohistochemistry – experiences from Nordic Immunohistochemical Quality Control (NordiQC). Virchows Arch. 2016 Jan;468(1):19-29. DOI: 10.1007/s00428-015-1829-1. Epub 2015 Aug 26. PMID: 26306713; PMCID: PMC4751198.
[2] Sophia Apple, MD, MS, et al., The Effect of Delay in Fixation, Different Fixatives, and Duration of Fixation in Estrogen and Progesterone Receptor Results in Breast Carcinoma, American Journal of Clinical Pathology, Volume 135, Issue 4, April 2011, Pages 592–598.
[3] Kohlberger T, Liu Y, Moran M, et al. Whole-slide image focus quality: Automatic assessment and impact on ai cancer detection. J Pathol Inform. 2019;10(1):39. doi:10.4103/jpi.jpi_11_19