Data extraction from virtual slides is the foundation for the identification of novel patterns that are difficult or impossible to quantify by the human eye. Along with innovative technologies like high plex immunofluorescence, artificial intelligence allows the caption of deeper insights, contextual information, and describes spatial relationships.
Presented at the virtual Pathology Visions 2020 meeting during Visiopharm's Industry Workshop on Monday, October 26, 2020.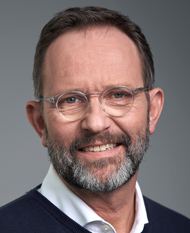 Prof Ralf Huss, University Hospital Augsburg
Ralf Huss is a Professor of Pathology and the Managing Deputy Director of Pathology and Molecular Diagnostics at the University Hospital in Augsburg, Germany. He also heads the Center for Digital Medicine. He is certified in anatomical, experimental, and molecular pathology, with over 30 years of experience in histopathology, immunology, cancer research, and oncology.