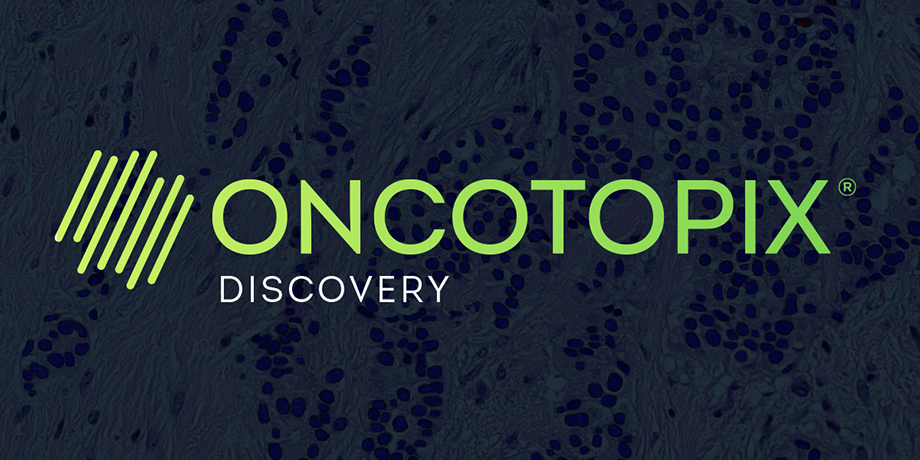 Visiopharm announces Oncotopix® Discovery with easy-to-use deep learning
Visiopharm, a world leader in AI-driven precision pathology software, today announced Oncotopix® Discovery, a solution for tissue-based cancer research. This makes the most recent advances in AI and deep learning available as part of a comprehensive research platform. 
Oncotopix Discovery is designed for all researchers and allows users to tackle both simple and the most complex datasets, to generate reliable quantitative results needed for breakthrough discoveries and publications.

Oncotopix Discovery provides:

Deep learning for all
Easy to use AI deep learning is now integrated as standard in all analysis packages for all tissue research applications.
See it, Train it, Find it
Anyone with an understanding of tissue morphology can train an AI deep learning APP to get accurate and reproducible results.
Pre-trained knowledge
New analysis packages include powerful pre-trained nuclei segmentation APPs suitable for brightfield and fluorescence applications which can be further tuned for even more specificity.
Best-in-class platform
Powered by Visiopharm's best-in-class image analysis platform, combining 20 years of tissue expertise with innovative state-of-the-art technology.
Dirk Vossen, Visiopharm Chief Diagnostics Officer said:
"We've learned from our customers that although many recognise our software as best in class, particularly for demanding applications, there was an overall impression that the software was sometimes difficult to navigate and use. Therefore, it was best suited for use by experienced image analysis experts. We listened, and we have created Oncotopix Discovery, putting deep learning at the base of everything we provide. It means anyone, irrespective of their experience with image analysis software, can now get what they need from the best-in-class digital pathology image analysis solution."
Louise Armstrong, Visiopharm Chief Commercial Officer said:
"Oncotopix Discovery enables users to get accurate and reliable results across a wide range of research applications including cancer research and neuroscience. Any user that understands cellular and tissue morphology can annotate slides to train our deep learning networks. By combining the researcher's scientific knowledge with our tissue analysis expertise, anyone can generate the robust quantitative data needed for research studies and publication. We can't wait to help a new group of biologists, medical researchers and pathologists accelerate their breakthroughs with Oncotopix Discovery."
Learn more about Oncotopix Discovery.

About Visiopharm
Visiopharm® is a world leader in AI-driven precision pathology software. Their pioneering image analysis tools support thousands of scientists, pathologists, and image analysis experts in academic institutions, biopharmaceutical industry, and diagnostic centers. AI-based image analysis and tissue mining tools support research and drug development research worldwide, while CE-IVD APPs support primary diagnostics. With the most advanced and sophisticated artificial intelligence and deep learning, Visiopharm delivers tissue data mining tools, precision results, and workflows.
Visiopharm was founded in 2002 and is privately owned. The company operates internationally with over 900 licenses and countless users in more than 40 countries. The company headquarters are in Denmark's Medicon Valley, with offices in Sweden, England, Germany, Netherlands and United States.