Digital pathology and AI solutions will revolutionize the histopathology laboratory. While AI applications in pathology are mostly focused on diagnostic decision support, optimizing and standardizing the manual laboratory process is equally important.
In this talk, Prof Ralf Huss will discuss how the University Hospital in Augsburg's pathology lab is optimizing their workflow to maximize the benefits of incorporating AI for pathology standardization.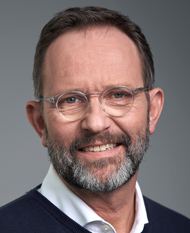 Prof Ralf Huss, University Hospital Augsburg
Ralf Huss is a Professor of Pathology and the Managing Deputy Director of Pathology and Molecular Diagnostics at the University Hospital in Augsburg, Germany. He also heads the Center for Digital Medicine. He is certified in anatomical, experimental, and molecular pathology, with over 30 years of experience in histopathology, immunology, cancer research, and oncology.